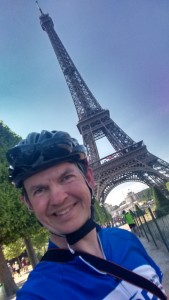 Hi, I'm Kev, father to a teenager who was diagnosed with Type 1 in 2010. Whilst not a person with diabetes myself I have learned so much about the condition and feel I can especially help those recently diagnosed.
Since 2014 I've become a keen cyclist and have cycled to Paris twice and ridden in the Prudential Ride London Surrey 100 twice. Through cycling I've raised thousands for two charities close to my heart: JDRF and INPUTDiabetes. 2016's achievement of getting 30 Diabetes Dads together to cycle London's Nightrider and raise around £20,000 is something I'm proud of.
My daughter has been using an insulin pump since 2013, using CGM (Continuous Glucose Monitoring) on and off since 2014 and we're users of Nightscout/xDrip/CGM-in-the-Cloud too. My daughter is currently using a DIY closed-loop artificial pancreas. Recently I've learned a lot about diet and nutrition because of the cycling I've been doing, so I feel I can help in this area too.
I've been lucky enough to enjoy far too many once-in-a-lifetime holidays and my dream destination is India, somewhere I've been lucky enough to visit four times, the last time being in 2011 merely 8 months after my daughter's diagnosis with Type 1. That was a four week backpacking trip in quite remote areas: diabetes didn't stop us, we got through it and the experience made us stronger. This year we're going back again for a month's backpacking around the South.
I blog about diabetes at Circles of Blue